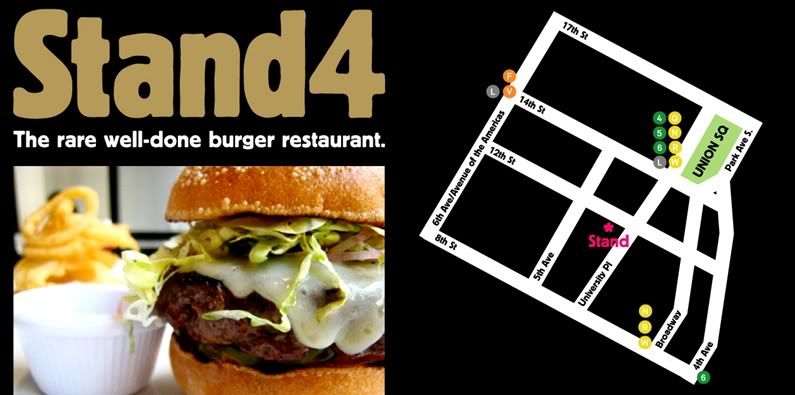 This weekend we were making stops at Trader Joe's and Strand Bookstore in Union Square, conveniently close to the burger restaurant
Stand
. We went on a mission to try the much acclaimed
toasted marshmallow milkshake
. It was delicious. We both said "How do they do that...?" because it really tastes just like a creamy toasted marshmallow.
Withing 5 minutes of arriving home we looked up a recipe. Let me know if you give it a try!
++++++++++++++++++++++++++++++++++++++++++++++

Stand's Marshmallow Shakes
from Francis Lamb at Gourmet

3 scoops vanilla ice cream (they use
Laboratorio del Gelato
)
1 tablespoon whole milk
1 large dollop
Wookstock Water Buffalo Milk yogurt
(feel free to use a substitute yogurt—it's just there to add a little more liquid and balance out the sweetness of the ice cream a bit)
5 Kraft Jumbo Jef-Puffed marshmallows
Whipped cream

1) Toast marshamllows under a broiler, or, if you're frisky, over a flame until they just start to blacken evenly (the trick is to make sure it's evenly toasted and dark, but not turned to charcoal).

2) Put the milk, yogurt, and then ice cream in the blender. Blend carefully, just until you get a "donut"—when you see the shake holding to the sides of the blender with a hollow core.

3) Add three of the toasted marshmallows to the blender, and whirl it just until they're all broken up and distributed evenly. Be careful not to overblend it, making it too melty.

4) Pour shake into a glass, top with a dollop of whipped cream, break the last two marshmallows on top, and serve with an extra-wide straw.

5) Repeat if necessary. And it will probably be necessary.