I haven't been posting my weekly favorites, not for lack of them, but lately... they all seem to relate to food. I haven't experienced major cravings - but
everything
sounds good to me. This calls for a dedicated post to a few foodies around the web have made my mouth-water, in no particular order...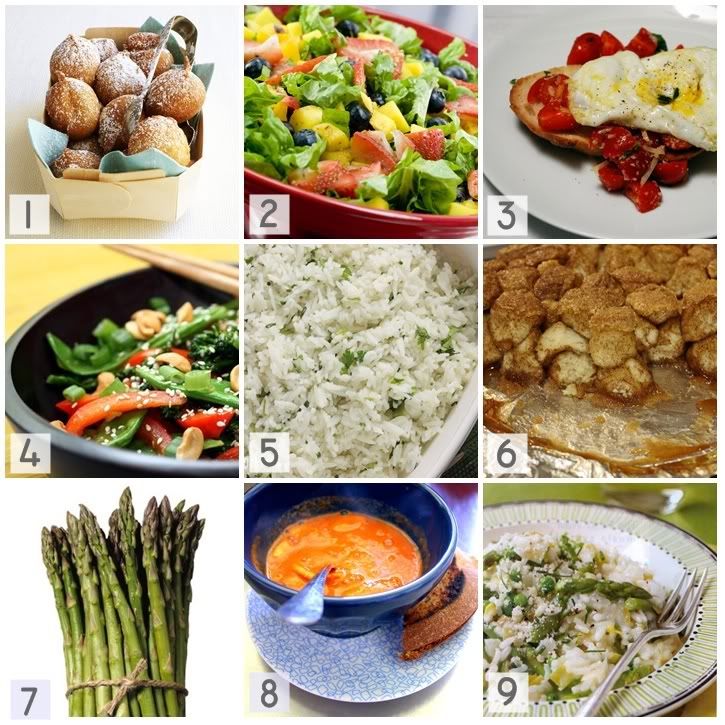 (1) ricotta doughnuts :: spotted on simplesong, recipe from galegand
(2) mango berry salad :: recipe by kelsey nixon on the cafe zupas blog
(3) eggs, tomatoes, toast :: joslyn's fall-back meal on raising foodies
(4) veggie cashew stir-fry :: from a new favorite erin on fresh365
(5) cilantro lime rice :: spotted on wirewhisk, image from gina
(6) cinnamon monkey bread :: recipe from the pioneer woman
(7) asparagus rice soup :: recipe on wirewhisk
(8) homemade tomato soup :: nienie's mouthwatering recipe
(9) spring risotto :: shared by stephmodo from the food network
We made the cinnamon monkey bread last night, I brought them into work today to keep myself from devouring the entire pan. It's not a healthy food item... but it's delicious.
The tomato soup is why I always have tomato puree in my pantry. It's a quick meal after work and can be paired with veggies or grilled cheese.
Three cheers for a growing recipe box! Thanks bloggers.